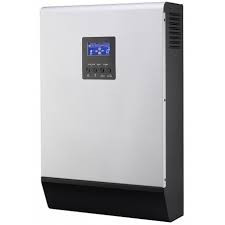 5000VA / 4000W Hybrid Inverter Charger
Inbuilt MPPT Solar charge Controller (60Amp) takes upto 3kw pv array
220V Output
48V DC Input
Up to 6 of these unit can be connected in parallel for up to 30KVA – Parallel card included
60Amp AC Battery Charger inbuilt
Can be used for 3-phase installations, even in asymetric layouts, like e.g. 4 inverters in one phase and one in the others.
Overload and short circuit protection,
Intuitive and programmable
Prioritises between DC input, AC mains input or Solar
Net weight : 13.5Kg,
Product Description
4kw Go Solar Combo
4KW hybrid Inverter with built-in mppt charge controller, battery charger, runs on solar and battery and controls charging with mains or solar when necessary.
4 x deep cycle batteries (100AH)
3 x 260W PV Panels
*Installation is site specific and requires inspection by one of our technical experts