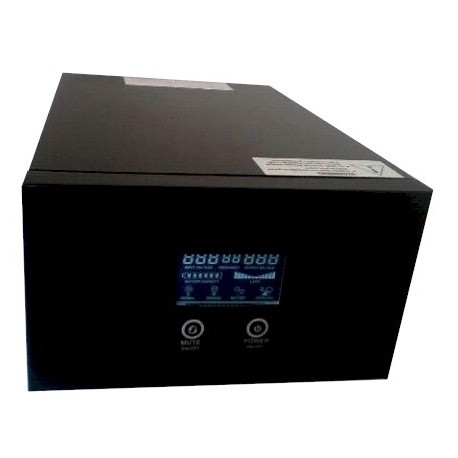 Ecco NS-1000 1000w pure sinewave inverter will run a small office with LED lights, printer, laptops etc for over 4 to 5 hours.
The length of back up time is determined by the number of batteries. this inverter is a 24v system and can still take more than 2 batteries if they are connected in a series and parallel combination to keep the voltage at 24VDC.
Ask about our specials on deep cycle batteries for a good deal.
Product Description
The Ecco NS-1000 1000w pure sinewave inverter has a rated output of 1000w constant power. It has an Input rated power of (VAC ) 220/230 (+25%, – 35%)
Frequency (Hz) 60/50 ± 10%
Output voltage regulation voltage range (VAC) 220/230 ± 10% (automatic adjustment Auto-sensing)
Conversion Time Transfer time <9ms Waveform sine wave (sine)
Frequency Mains: mains with frequency inverter: 60/50 ± 0.5
Commercial power supply: shared frequency with the commercial inversion state: 60/50 ± 0.5
The Ecco NS-1000 1000w pure sinewave inverter has Overload Protection, Input over high / too low voltage protection and DC voltage protection, peak surge protection, overload protection: 100-120% 30 seconds;> 120%, 100 ms;> 150%, 50 ms; Output short circuit <150 microseconds. Input / output over high or low protecting; low battery protecting; surge and pike-currents protecting; overload protecting 100% -120% 30sec;> 120% 100ms;> 150%, 50ms output short circuit 150 MS dc voltage DC Voltage Battery 24VDC type TYPE sealed lead-acid batteries Sealed, maintenance-free lead acid Recharge current 8-13A charging current Dimensions Appearance Dimensions External Size (mm) D × W × H 37*24*14 frequency transformer, pure sine wave AC output, load capacity automatic high and low adjustment function (AVR), wide input voltage range, can adapt to any harsh power environment can automatically turn power situation in the city, more widely used advanced automatic constant current charging circuit, extending battery life has improved battery owe voltage, overload, over discharge, short circuit protection charging level constant and float combination.
Ecco NS-1000 1000w pure sinewave inverter.